Recently, offline LED lighting high-voltage driver Power Integrations (Nasdaq: POWI) released a new reference design (RD-268) for candle bulb applications. The design is based on PI's LinkSwitch-PL series of LED driver IC devices LNK454DG, which meets the extremely compact size requirements of standard candle bulbs, with support for TRIAC dimming, low total harmonic distortion (THD) and high power factor (PF). specialty.
The RD-268 provides a constant current output of 366 mA with a nominal LED voltage of 3 V and a total power of 1.1 W. The LED bulb's light output is about 100 lumens, which is equivalent to a traditional 15 W incandescent candle light. The reference design operates from an input voltage of 85 to 300 VAC, enabling manufacturers to produce lamps that are suitable for use in a variety of regions, enhance field application reliability, and extend the life of online voltage dips and swells.
In addition, high power factor (greater than 0.9) and low THD (less than 15% at 115 VAC; meeting EN61000-3-2 Class D) allows a single design to be applied to both global and total power requirements over 5W for each region. Multi-lamp structure with 25W threshold.
According to Power Integrations: "The RD-268 demonstrates the ability of our new LED driver IC to deliver superior performance and end-user experience. It is a compact candle bulb that can be used to pass through the required requirements. Low cost, low component count solution for power factor and EMI testing"

CE approved input 220V output AC24V CCTV power distribution unit led transformer power supply box
Features:
Thermal Cutoffs Protection (TCO):

each output has independent PTC fuse and LED indicator, when problem occurs, only affect the independent output, other outputs still working.
Short circuit protection:

when short condition occurs, independent PTC fuse will open the circuit, when condition removed, PTC fuse will automatically back to close.
High voltage protection:

when high voltage occurs, the surge protection will be hit through to protect the connected device.
Over Current protection

:

when over current occurs, the power supply will automatically switch to self-protection status, when condition removed, then switch back to normal.
Integral Surge Protection:
Soft starting current, effectively reduce the impact of AC input, independent short-circuit protection and surge protection, resume automatically after clearing of fault, EMI filter, minimum ripple, 100% load test, quality guarantee, high efficiency, low T-rise, continuous duty.
Individual LED Power Indication:
Input with a switch, LED indicators lighten when the power supply operates normally.
Individual PTC Output Protection:
each output contains independent PTC, LED indicator, which is not interfere with each other.
Application:
Security Monitoring system

Multimedia Network Teaching System

Medical Monitoring Display System

Industrial Automation Control System

Banking ,securities,financial information display system

Remote Network Server Monitoring

Department Store Security
Product Images: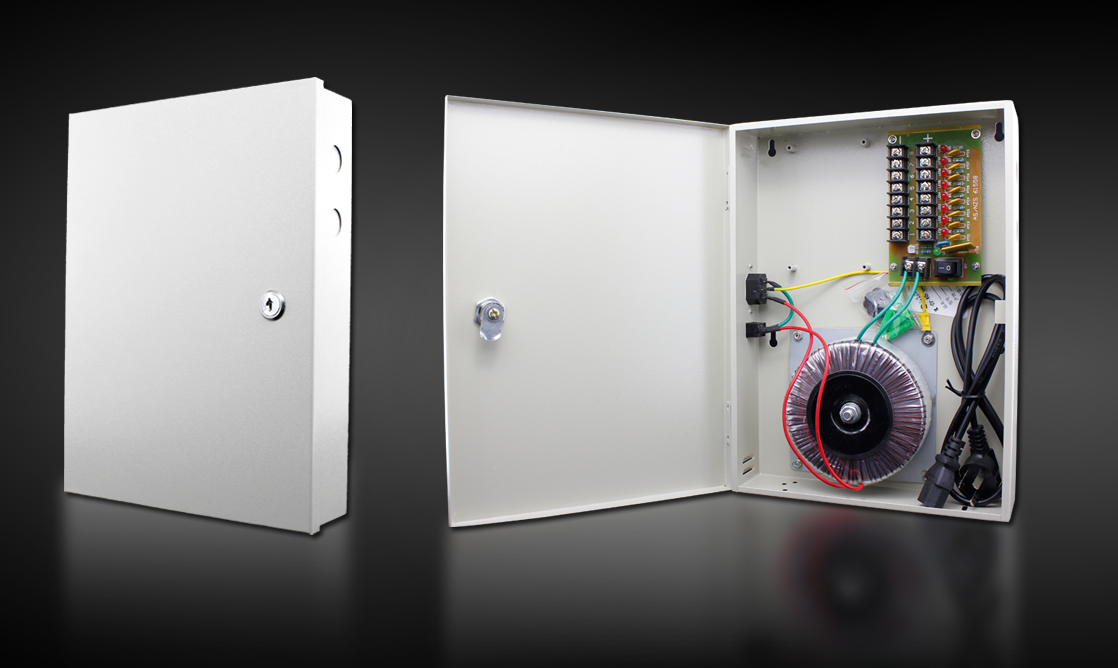 Boxed Power Supply,Boxed Power Supply 24Vac,Cctv Boxed Power Supply, Boxed Power Supply Ups
Dongguan Xiaoerduo Electronics Co., Ltd. , http://www.steadysmps.com