4K, 8K, and laser TV have become the scent of the market. There are not many laser TVs on the market. Today, we will take you closer to the Changhong 100-inch laser TV to let everyone know more.
Changhong CHiQ100 inch laser TV includes screen, whole machine, and audio. It is the most different from other TVs except for the 100-inch large size, and the whole machine that looks like a projector.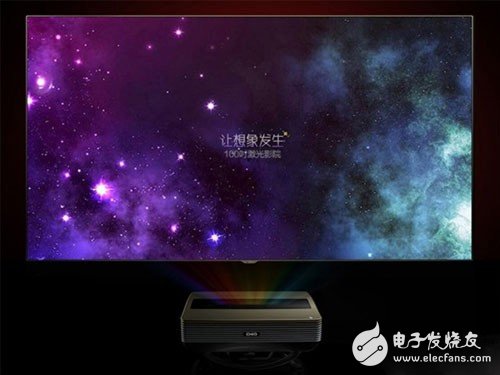 First look at the projection machine, using the local gold plus body, dynamic slider, smart switch. The base is stylish, multi-dimensional adjustment, metal wire drawing process, details show the taste.
Look at the 100-inch large screen, ultra-thin body, the narrowest point is only 8.6mm, get rid of the thick sense of the big-screen TV, sparkling people; very narrow border, highlighting the craft, ingenious. The 100-inch field of vision really moves IMAX home.
Changhong CHiQ100 inch laser TV's micro-nano high-definition Fresnel lens optical screen can effectively absorb ambient light while reflecting the light to the viewer's direction, which can be viewed normally in a bright environment.
Changhong CHiQ100 inch laser TV adopts passive bionic screen, the screen itself reflects, there is no power supply, can avoid the liquid crystal display cost. Semiconductor laser + RGBY four-stage color wheel design, equipped with PWM drive technology, to ensure high saturation of image color, restore the original color of the image.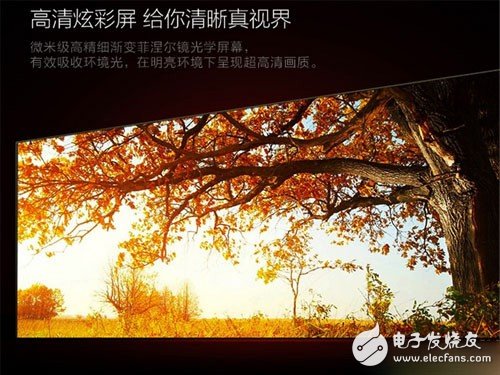 Not only that, the laser projected on the passive bionic screen is naturally stable, the image is clear and more in line with the human visual habits, and the eyes are protected.
Changhong CHiQ100 inch laser TV is equipped with 5.1 Dolby, DTS dual decoding technology sound system, with subwoofer, three-dimensional surround.
Changhong CHiQ100 inch laser TV can be perfectly synchronized with mobile phones and tablets, and large screens and small screens can be switched at will. With Tencent video on the resources, you can recommend videos and videos that you are interested in according to your viewing habits. Not only a huge amount of video resources, but also big-screen games to play casually, the same is playing games, I am afraid this laser big screen is completely different.
As a niche product, laser TV is very prominent. The screen is large, the sound quality is very shocking, and it can provide a more high-end attention to the filming experience. At the same time, the price of the product is not low. Most people will think that buying such a product is still It is better to buy a flat-panel TV.
KNM1 Series Moulded Case Circuit Breaker
KNM1 series Moulded Case Circuit Breaker is MCCB , How to select good Molded Case Circuit Breaker suppliers? Korlen electric is your first choice. All moulded Case Circuit Breakers pass the CE.CB.SEMKO.SIRIM etc. Certificates.
Moulded Case Circuit Breaker /MCCB can be used to distribute electric power and protect power equipment against overload and short-current, and can change the circuit and start motor infrequently. The application of Moulded Case Circuit Breaker /MCCB is industrial.
Korlen electric also provide Miniature Circuit Breaker /MCB. Residual Current Circuit Breaker /RCCB. RCBO. Led light and so on .
KNM1 series Molded Case Circuit Breaker,KNM1 series Small Size Molded Case Circuit Breaker,KNM1 series Electrical Molded Case Circuit Breaker,KNM1 series Automatic Molded Case Circuit Breaker
Wenzhou Korlen Electric Appliances Co., Ltd. , https://www.zjthermalrelay.com